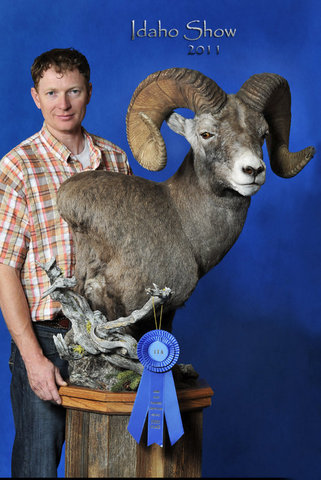 Chad Clark is the owner and operator of Mountain's Edge Taxidermy in Albion, Idaho. With humble beginnings in a small shack in his parents backyard commonly known as "The Big Rack Shack" to a now multi-personnel showroom and taxidermy shop, Chad has built Idaho's premier taxidermy company. Chad and his experienced staff have over 40 years of dedicated service in taxidermy, sculpture, and other forms of art. The line between poor taxidermy work and outstanding work is razor thin which is why it is so important to find a qualified taxidermist. Mountain's Edge Taxidermy prides themselves on using the highest quality forms, epoxies, and other materials which ensures the highest quality final product possible. We know that taxidermy is an investment and we want to protect your investment by ensuring it will last for years to come.
What sets Chad and his staff apart is their attention to the smallest of details. Every hair and hoof is meticulously placed just as it would be in nature. We study the anatomy and physiology of your animal to make it appear as natural as possible. We understand that an animal would stand on a rock with natural weight distribution in order to keep its balance and we make every attempt to recreate this in your taxidermy. When you take your trophy into your home, it will appear as life like as possible and as natural as possible.
If you are willing to spend your hard earned money, time, and effort in your hunt then the staff at Mountain's Edge Taxidermy is willing to spare no measure to ensure that when you see your trophy that you remember every detail of your hunt. You will remember how it felt when you saw your animal for the first time in that patch of Buck Brush. You will remember the smell of the Aspen and Sagebrush in the crisp fall mountain air. You will remember the days of painstaking effort that it took to harvest your animal. Every time that you see your animal, we want you to remember exactly what it took to get it there.
We thank you for the opportunity to partner with you in recreating your animal into a work of art that you will be proud to display for all to admire.